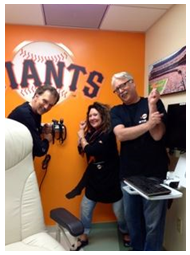 PROUD TO BE A PART OF THE COMMUNITY
At VMI architecture, we are proud to volunteer and work with local non-profits. While we love to design and build, it is also our goal to give back and help. Our dedication to our work and communities is important to all that we do.
Rooms That Rock 4 Chemo, San Francisco Giants Room at St Mary's
This is our second project with Rooms That Rock 4 Chemo (RTR4C). VMI architecture volunteers with this organization because we really believe transforming these healing environments reduces stress, provides positive distraction and improves outcomes for those undergoing chemotherapy.
This project was featured on the Big Screen at the Giants home game in May.
Friends and colleagues, if you'd like to join us on a future RTR4C project, please let us know and we will contact you in advance so you can join us the next time we Rock a Room!


Rooms That Rock 4 Chemo, Marin General, 5th Floor Family Waiting Room
VMI completed a pro bono project for Rooms That Rock for Chemo. This worthy non-profit is the brainchild of Nancy Ballard, who received the Jefferson Award for her work.

VMI designed the Family Waiting Room at MGH, part of the chemotherapy suite, on the 5th floor.
VMI's design was approved by Marin General Hospital. Donations of labor by VMI staff, and paint donations by Dunn Edwards helped make this project a success.

It was our objective to create an environment that is home-like, an oasis away from medical technology and sterility, which eases fear and creates a pleasant haven via color, texture, and artwork. Art donated by local artists Susan Strong and Shelly Pintabona.
The creation of an undulating visual rippling pattern with applied texture and paint on one wall, new carpet tiles by Shaw in a gentle branch and bloom pattern, and new original donated artwork and accessories.

Various green design products were used in this project, such as Dunn-Edwards eco-efficient No VOC paint, Shaw Eco-Worx carpet tiles, which are cradle to cradle silver certified, designed to be recycled over and over again.