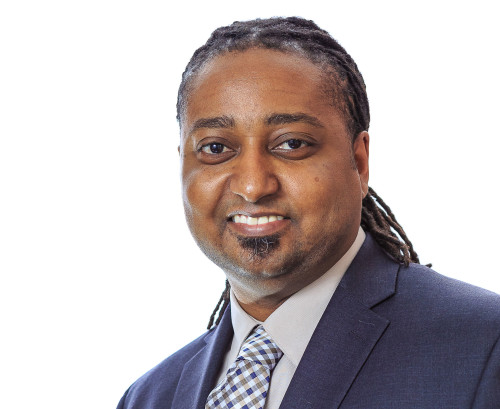 "Eldrick was born in the Republic of Trinidad and Tobago, living there as a young child. He became a citizen of the United States and has lived in New York City, Washington, D.C., Maryland, Virginia, and California. His varied tastes of architecture, co-mingled with a love of adventure motorcycling have led him to travel to many states and countries documenting the art and science of architecture, including London, Amsterdam, Paris, Barcelona, St. Martin, Oaxaca, and Trinidad."
Eldrick became a member of the VMI family in October 1998, staying until July 2007. After a brief hiatus with another Bay Area firm, he returned to VMI in August 2010. Beginning as a CAD drafter, Eldrick progressed thru the ranks to become a Project Manager, then after completing the ARE, a licensed Architect. He has overseen restaurant projects, speculative commercial buildings, residential remodels, vocational schools, medical, dental, and veterinary buildings. Eldrick has also completed work with the Division of the State Architect and the University of California, Berkeley.
Eldrick earned a Bachelor's Degree in Architecture & Planning from Howard University in Washington, D.C., in May of 1998. He completed the NCARB Intern Development Program in 2005 and has recently completed the California Architectural Registration Exam. Eldrick holds a license to practice architecture in the states of California, Nevada, Colorado, Missouri, Texas, Ohio, Maryland, Louisiana, Kansas, Oklahoma, Illinois, Georgia, Idaho, Florida, Arkansas and Michigan.