Apartment Building Renovation,
San Rafael, CA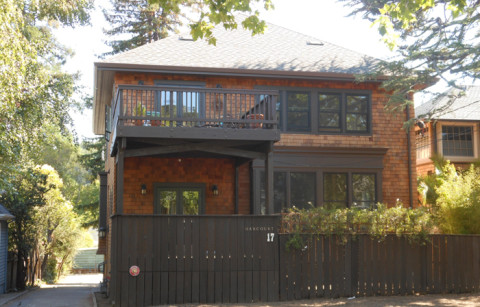 17 Harcourt, San Rafael
The project site is a three story apartment building, which had been subject to an apartment fire. The result of the blaze and the subsequent water damage from attempts to extinguish it left the interior of the building primarily gutted. All interior finishes, fixtures, stairways, mechanical and electrical systems were destroyed beyond repair. The exterior of the building was charred in some places, and destroyed completely in others.
The City determined that due to the extent of the damage to the structure, the resulting project would be considered a "new building". Our first task was to determine how the project could legally be designed within the current code, all while minimizing modifications to the existing early 1900s structure.
New floor plans were designed to retain the heritage of the original building while meeting code requirements. The site was revised to allow for code compliant parking. The foundation was reinforced, and the building structure as a whole was strengthened to cope with modern seismic loads. Additions were also added to make the building more efficient and environmentally friendly.